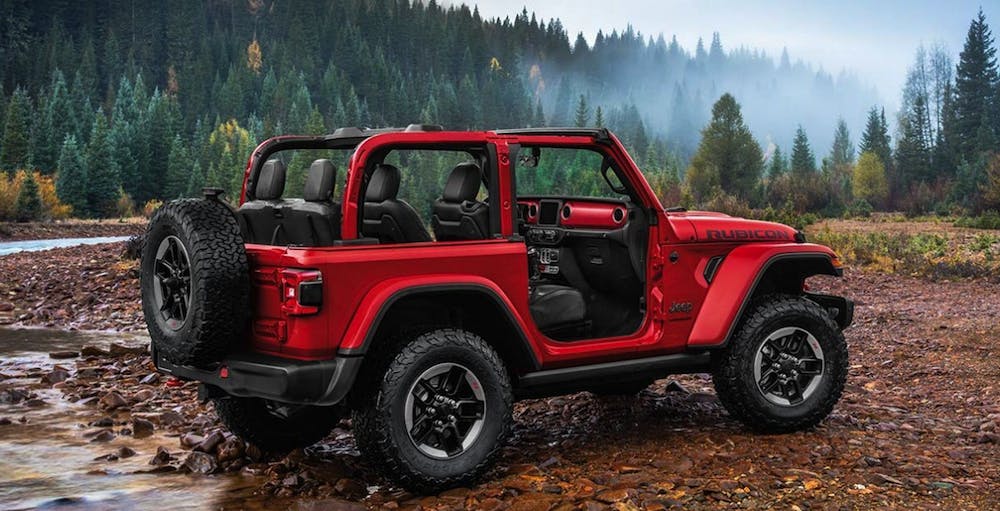 Off-Road Adventures Await: Exploring the Jeep Wrangler's Trail-Ready Features
The Jeep Wrangler is a renowned off-road vehicle known for its trail-ready features. Let's delve into the details of some of the key components that make the Wrangler a capable and rugged off-roader:
4×4 Capability: The Jeep Wrangler comes standard with a 4×4 drivetrain, which means power is delivered to all four wheels simultaneously. This provides superior traction and control, allowing the Wrangler to conquer various off-road terrains.
Off-Road Suspension: The Wrangler's suspension system is designed to handle rough terrain. It typically features solid front and rear axles, which provide excellent articulation and durability. The suspension is often lifted higher than standard SUVs, allowing for increased ground clearance to navigate over obstacles.
All-Terrain Tires: To enhance off-road performance, the Wrangler is equipped with rugged, all-terrain tires. These tires have aggressive tread patterns that provide better traction on different surfaces like mud, gravel, rocks, and sand.
Rock-Trac 4×4 System: The Wrangler Rubicon model is equipped with the Rock-Trac 4×4 system. This advanced system features heavy-duty Dana 44 front and rear axles, along with an electronic locking front and rear differential. It also includes a 4:1 low-range transfer case, which provides enhanced torque for crawling over challenging obstacles.
Tru-Lok Electronic Locking Differentials: The Wrangler Rubicon also boasts Tru-Lok electronic locking differentials. These differentials can be engaged at the push of a button and lock the front and rear axles together, ensuring power is evenly distributed to both wheels on the same axle. This feature greatly improves traction in challenging off-road situations.
Sway Bar Disconnect: Another notable feature on the Wrangler Rubicon is the electronic sway bar disconnect system. It allows the driver to disconnect the front sway bar with the push of a button, providing increased suspension articulation when traversing uneven terrain. This feature helps keep the wheels on the ground and enhances off-road capability.
Skid Plates and Rock Rails: The underbody of the Wrangler is protected by heavy-duty skid plates, shielding vital components like the transfer case, fuel tank, and oil pan from potential damage when driving over rocks and other obstacles. Additionally, rock rails are installed along the sides of the vehicle to provide added protection against side impacts while off-roading.
Water Fording Capability: The Wrangler is designed with water fording in mind. Key components such as the electrical connections, body openings, and drivetrain vents are positioned high in the vehicle to allow for water crossings. It typically has a high air intake location to prevent water from entering the engine during water fording.
Off-Road-Optimized Bumpers: The Wrangler often features sturdy, off-road bumpers with improved approach and departure angles. These bumpers are designed to provide maximum clearance, reducing the risk of damage when navigating steep inclines or descents.
Winch-Ready Design: The front bumper of the Wrangler is often designed with mounting provisions for a winch. This allows for easy installation of a winch, which can be a valuable tool for self-recovery or assisting other vehicles in challenging off-road situations.
These are just a few of the trail-ready features found on the Jeep Wrangler. With its rugged construction, advanced 4×4 systems, and specialized components, the Wrangler is a highly capable off-road vehicle that excels in tackling various terrains and obstacles.
Pick out your favorite Jeep Wrangler here at Diehl of Robinson!
Back to Parent Page