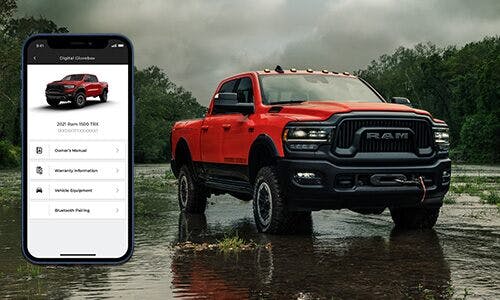 Exploring the Features of the Ram Brand Owner's App
The Ram Brand Owner's App is a mobile application developed by Ram Trucks specifically for owners of Ram vehicles. The app provides a range of features and functionalities to enhance the ownership experience. Here are some of the key features you can expect to find on the Ram Brand Owner's App:
Vehicle Health Report: This feature allows you to check the health status of your Ram vehicle. It provides important information about your vehicle's systems, such as engine, transmission, battery, and more. You can monitor things like fuel level, tire pressure, and any diagnostic trouble codes that may arise.
Remote Vehicle Controls: With this feature, you can remotely control certain aspects of your Ram vehicle. For example, you can lock/unlock the doors, start/stop the engine, activate the horn and lights, and even schedule remote starts.
Maintenance Scheduler: The app helps you keep track of your vehicle's maintenance schedule. It provides reminders for routine maintenance tasks like oil changes, tire rotations, and filter replacements. You can set up notifications to ensure you never miss a service appointment.
Recall Notifications: If there is a recall or safety-related issue with your Ram vehicle, the app will notify you. It ensures that you stay informed about any potential issues and can take necessary actions to resolve them.
Roadside Assistance: In case of a breakdown or emergency, the app allows you to request roadside assistance directly from your smartphone. It provides you with contact information and quick access to services like towing, fuel delivery, flat tire assistance, and more.
Owner's Manual and Guides: The app provides digital access to your Ram vehicle's owner's manual, as well as various guides and instructional materials. This makes it convenient to find information about your vehicle's features, maintenance procedures, and troubleshooting tips.
Vehicle Finder: If you've parked your vehicle in a crowded parking lot and can't remember its exact location, the app can help you locate it. Using GPS, it guides you back to your parked vehicle.
Offers and Promotions: Ram periodically offers special deals, discounts, and promotions. The app keeps you updated on these offers, allowing you to take advantage of exclusive savings on vehicle accessories, parts, and services.
Account Management: The app enables you to manage your Ram vehicle's ownership details, such as updating your contact information, viewing your vehicle's warranty information, and accessing important vehicle-related documents.
Owner Community and Support: The app provides access to a community of Ram vehicle owners, where you can connect, share experiences, and seek advice. It also offers customer support features, including the ability to chat with a Ram representative for assistance.
The Ram Brand Owner's App is more than just a mobile application – it's your all-in-one companion for managing and optimizing your Ram vehicle ownership. With its array of features, from monitoring your vehicle's health to accessing important resources and connecting with a community of fellow Ram owners, the app empowers you to stay informed, in control, and supported throughout your ownership journey. Whether you're scheduling maintenance, locating your vehicle, or taking advantage of exclusive offers, the Ram Brand Owner's App is designed to enhance your experience and ensure that you get the most out of your Ram truck. Download the app today and discover a new level of convenience and connectivity for your Ram ownership.  Available on Google Play and Apple App Store.
Click Here to find the perfect Ram vehicle at Diehl of Robinson!
Back to Parent Page